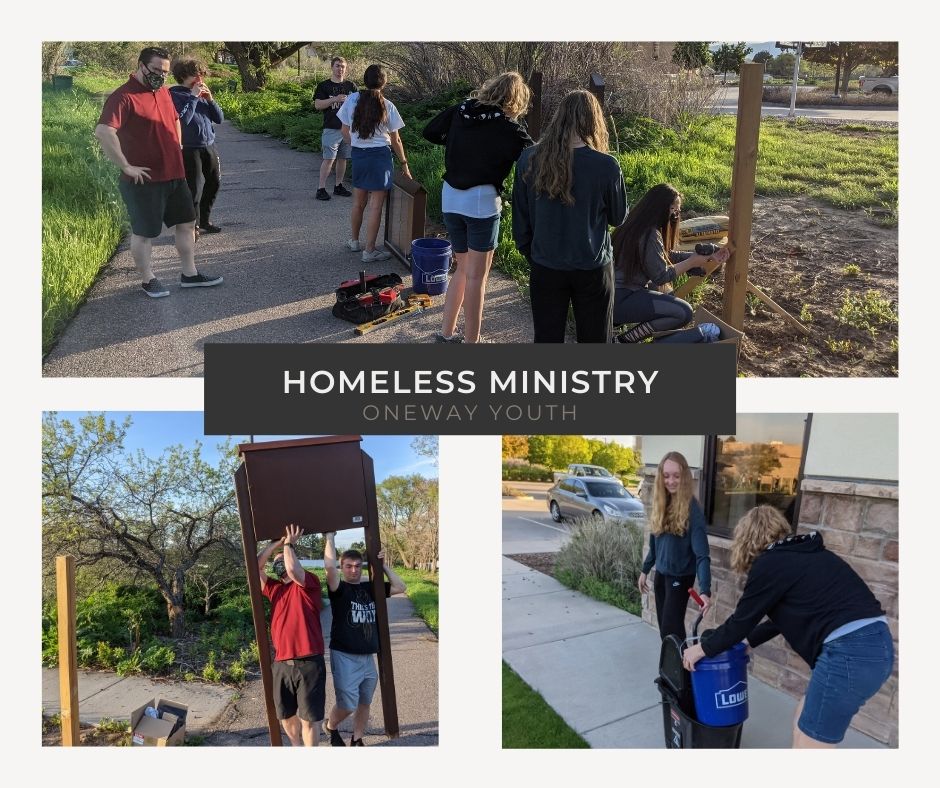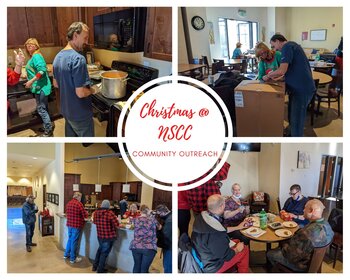 Community Outreach Ministries
Our OneWay Youth installed the Resource/Bulletin Board near the trailhead. We hope to utilize this board to navigate those experiencing homelessness to vital resources!
Our OneWay Youth installed the pole for the mini-food pantry. Hope to have that up soon!
Our Community Outreach team meets every Thursday morning at 10am to meal prep and then serve food at EB Raines Park/Webster Lake at 12noon to serve food to those experiencing homelessness and to share the love of Jesus through deepening relationships with all that cross their paths.
Our Coat Drive bin is located in the foyer of NSCC. Please donate cleaned coats.
We have a bin in foyer of NSCC to donate items to the Thornton Community Food Bank.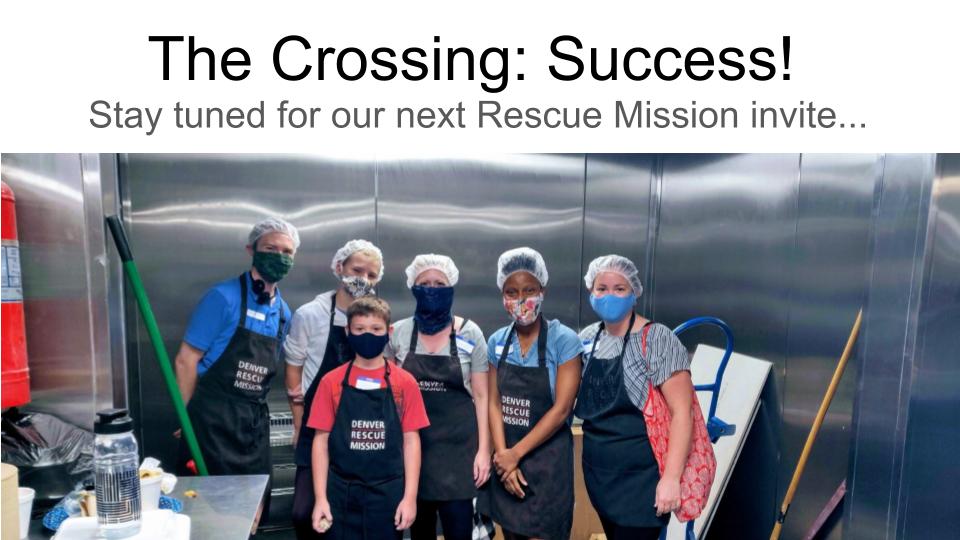 Denver Rescue Mission @ The Crossing
NSCC was able to serve at the The Crossing on August 8th. Thank you to all that participated & prayed for this evening. This location allowed us to bring children (10yr +) to help serve. What a wonderful opportunity to involve our children in learning to serve those in our community!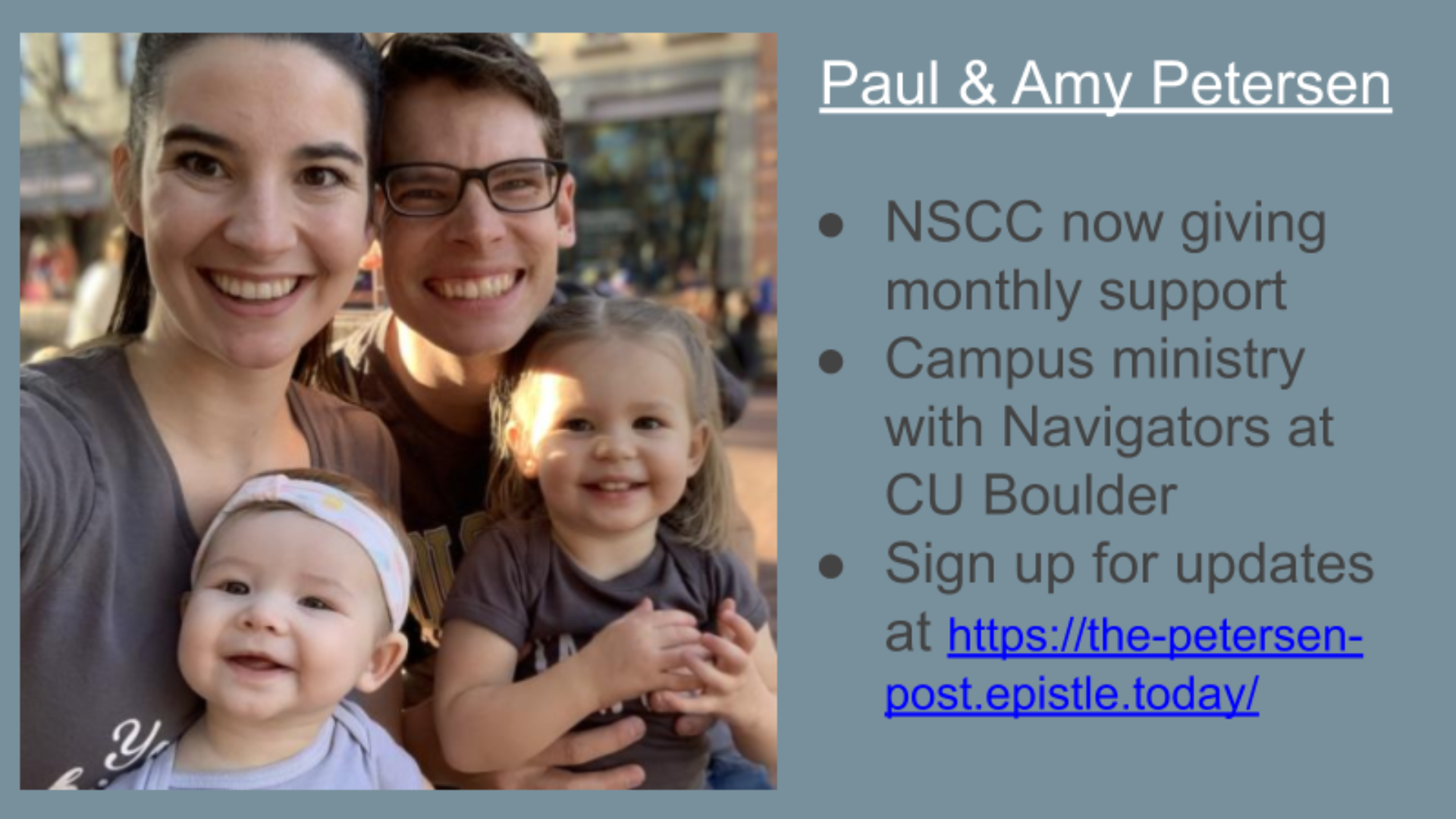 Paul and Amy Petersen
NSCC has started supporting Paul and Amy Petersen monthly. They are serving with Navigators at CU Boulder. You can view and subscribe to their updates by visiting their Epistle Newsletter Site. The Petersens have temporarily located to TX for Paul to finish his last year of seminary! He continues to serve through the Navigators and plan on returning to Boulder in May 2022.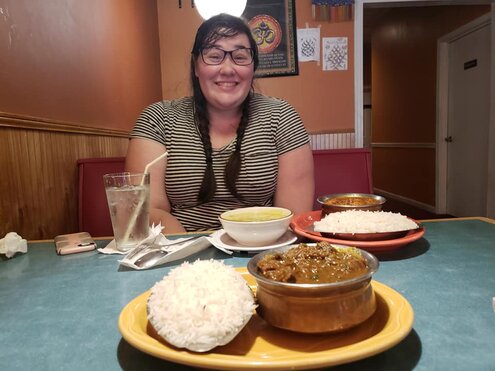 Makayla Osborn
NSCC has started supporting Makayla Osborn on a monthly basis. She is serving with Global Frontier Missions in Clarkson, GA. You can sign up for her newsletter here.
Kanan SDB Church, Manipur India
NSCC has started supporting this ministry. This is a Burmese group from the Zomi people. They minister to Christians across the border in Burma.